Farmers' Markets
MY COLUMN: July 2011
To the left, "Rainbow Heritage Gardens", one of the beautiful organically grown produce stands at the Carp Farmers' Market.
When our journey took us to Carp Farmers' Market on Saturday mornings, I was more than delighted.
I have always revelled in the freshness and honesty of market produce. I love outdoor markets. When I was a child, shopping in an outdoor market did not seem to be part of an alternative lifestyle; these days it is a luxury and a privilege to live close to a bustling farmers' market. We see our adventures with organically grown vegetables as a luxury, and we all seek excellent health.

(To the right, the inside of the giant building indoor vendors enjoy, at Carp Fairgrounds, Ontario)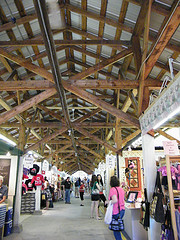 Why most of society has tended to call organic living, freshness, vegetarianism or small shopping an alternative way of life is really a testament to the accessibility of agribusiness and its excellent offering to giant food chains.
Shopping at a Food Mart is very convenient and air-conditioned. You don't have to carry an umbrella some days, and perhaps you like getting it all over with for two weeks' worth of shopping. I know I need to do this, and of course, it is a practical way to obtain provisions. I do not think of shopping in a Farmers' Market as alternative lifestyle, however. I just see shopping that way as more familiar and way more fresh. The produce has come fresh from farms in our local area, they are seasonally available local products and not gassed, frozen, flown, trucked endless miles, dusty, or sprayed with poisons.

While I, personally do not eat meat products, I did suggest to my husband that he try some grass fed beef, cattle that are fed what they eat naturally, not fed as calves on corn to fatten them. Their bodies are less fat and they never become ill, because natural diet prevents the diseases that chemically protected cattle are immunized for. The farmer does not feed the creatures chemicals, so at least the poor buggers are happy cows for whatever meaning their life on earth gives them.

My spouse will also try more costly Bison meat. These are Prairies buffalo. The way they are fed makes their muscle weigh twice as much as for chemically treated herds. Our market, in Carp, Ontario, also has "game" meats, which are cuts from animals or birds considered to be wild game, but raised for a market. Enough about meat, although if you are into adding to the exasperation of old age with the pain of osteoarthritis, which is from eating too much red meat, or with atherosclerotic arteries (sure to be a fave when you find you can rest all day in a wheelchair) go ahead and don't explore the fair and natural treatment of farm animals. Just remember that if you are eating quality, you need less for nutrition, and you waste less, so that you are even responsibly better treating the animal kingdom!
Plant Sets, Cut Flowers and Garden Club Sales, Oh My!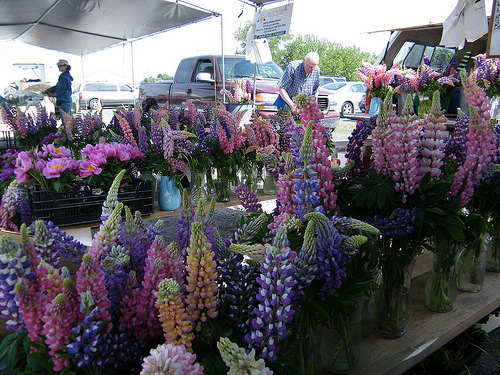 As you can see, to the left, a large outdoor stand sports hundreds of lupins and peonies, available during their growing season. It is a joy to see them arranged in vintage jugs, and to hear from the farmer who raises these flowers. He tells me his Grand-Dad used to call it the closest thing to heaven on earth, and as he got older, he was never sure that he had not already transcended!
Flowers, plant sets and planters (whether tubs or hangers) are all either par or less expensive than nursery markets. You are buying them directly from the producers. Most of these agrarians or horticulturists (like the owner of The Herb Garden in Almonte) raise heritage seed as well as sturdy esoterica, principally because they are very interested in keeping the earth green and your garden splendid with interest. I bought a plant I had never seen before from the Almonte horticulturist. It's called Peach Sage. The plant has glabrous and not fuzzy leaves and its' flowers are peach coloured. Crush one of its' leaves and a fairly strong scent of peach will extrude. It is growing well in my garden, next to tomatoes and basil. When Carp held its annual Carp Gardeners' Club sale, I discovered plants worth twelve dollars, they were so well developed and large, all for the cost of four dollars a pot. I bought an unheard-of-before Shocking Pink Beesbalm, and I was intrigued to hear that this variety is a heritage colour and it sows well from seed, unlike its' red sister.
I was able to buy heritage tomato plant from one of the vendors. These are the cherry tomato plants, but they are called "Black Cherry", a dark purplish black tomato. I love heritage tomatos, they are more velvety in their texture. I think they are less watery than commercial hybrids, and so better assured that they are true fruits.
Crafts, Breads, Specialties
You cannot go wrong at a juried farmers' market. Every vendor must sell only what has been inspected and found acceptable: locally made or grown produce of high quality. If you are shopping for home-baked buns, cookies, muffins, cup-cakes,or honey, you will always find plenteous and varied products from a number of vendors. The man who sells honey right next to us in the Carp Fair building actually brings some of his own bees with him in a glass unit, showing them buzzing about on their honeycomb. He tells you what kind of honey it is; Blue Thistleweed (actually, Vipers' Bugloss) Clover, Dandelion, etc. and points out which have tonic properties.
Hand Crafted knits, hand-woven or stitched clothing, beautiful jewelery- there are hundreds of fine things that you may buy between the hours of 8:00 am and 1:00 pm Saturdays until mid-October.
Fun for Everyone Outdoors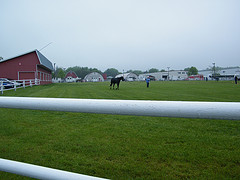 If you have finished your shopping for the week and just want to have some open air entertainment, you might consider dropping by every weekend, if you live close to a fairground like this. When we first started working at the Market, the outdoor paddocks had horse shows and training. Coupled with the horses and their trainers one week was a yardsale, great stuff available.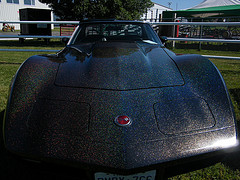 The next week (Fathers' Day) a number of motorcycle enthusiasts were showing their hogs, also rallying from Carp to Renfrew to raise money for cancer research.
Last week vintage car enthusiasts showed their glamorous cars, a good two hundred of them. I happen to love taking photos of vintage vehicles, because they are reconditoned until more glisteningly beautiful than the originals. Older cars have better quality parts, too. Their styling is a story of great sagas, and I love them!
You can see images of some of these vehicles here LINK TO FLICKR: VINTAGE CARS
There is so much to see and do- a clown and different musicians each week, an outdoor restaurant food court, each of these is fresh, fabulous and fun. Your kids and dogs will love the nice family atmosphere, the delicious treats, and, of course, the par excellence shows. There are even quiet crafts courses for the children, so that they learn a little while Mummy is blastin' away at the ole' bank account with all barrels a'blazin'!
To Images on Flickr: Carp Farmers Market, in Carp, Ontario
Link to Crash the Clown on video: (at Carp Farmers' Market)
Visit Farmers' Markets!
Bye for now!
Sue
LINKS BELOW BRING PAGES UP IN SEPARATE WINDOW
---
copyright Sue Risk Northdays Image 2004 - 2015